By: Ana Borralho & João Galante
Premiere: Le phénix scène nationale Valenciennes pôle européen de création (Vieux-Condé, France / 2017)
The definition of happiness varies from person to person. It can even be considered a state. A state of well-being and satisfaction. How can we be happy? And above all, how can we be happy in an unhappy society?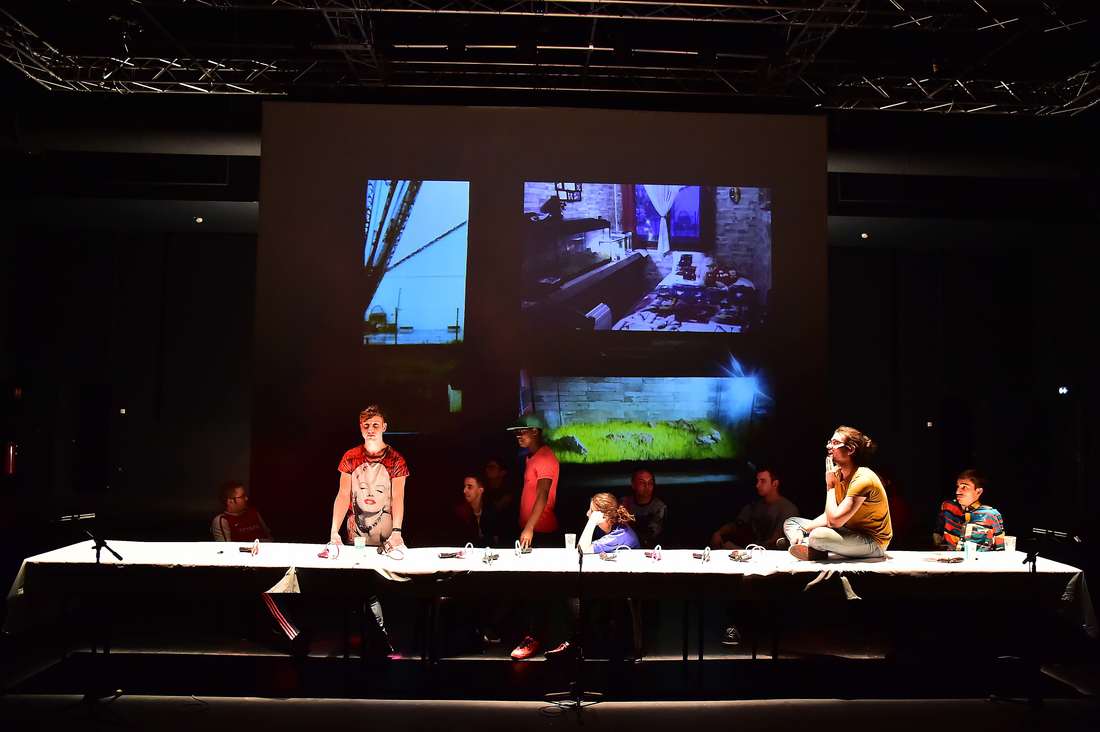 Ana Borralho and João Galante invite 12 young adults in each location. They are not actors and they're between 18 and 23 years old. Sitting at the same table, with a gun in the middle, they play russian roulette and answer a list of questions about their loves, such as their concerns, their anxieties, their families, and their visions of the future. As words are released, life paths overlap, drawing a multicultural and explosive cartography of local youth.
A deadly game in search of happiness.
---
Concept and Artistic Direction: Ana Borralho & João Galante
Light Design: Thomas Walgrave
Sound: Coolgate, Pedro Augusto
Dramaturgical Collaboration: Fernando J. Ribeiro
Stage and rehearsal assistance: André Uerba, Antonia Buresi, Catarina Gonçalves, Cátia "Alface" Leitão e Tiago Gandra
Technical Direction: Gi Carvalho and Pedro Augusto
Performers: Local group of 12 young adults
Production Manager: Mónica Samões
Production and Touring: Andrea Sozzi
Executive Production: Joana Duarte
International Touring Support: Nouveau Théâtre de Montreuil – CDN 
Co-producers: Maria Matos Teatro Municipal (Lisbon, Portugal), Jonk – ny internationell scenkonst för unga (Jönköping, Sweden), Nouveau Théâtre de Montreuil (CDN, France), Le phénix – scène nationale Valenciennes pôle européen de création (France) Le Boulon Centre National des Arts de la Rue de Vieux-Condé (France)
Support: Câmara Municipal de Lagos, Espaço Alkantara, LAC – Laboratório de Actividades Criativas, SIN Arts and Culture Centre (Budapest)
---
---
PRESENTATIONS:
1 – 2 MAR 2017
Le phénix scène nationale, Le Boulon Centre National des Arts de la Rue de Vieux-Condé
Festival Cabarét de Curiosités
Valenciennes, France
17 – 19 MAR 2017
Maria Matos Teatro Municipal
Lisbon, Portugal
With: Adriana Afonso Melo, Ana Rita Rocha Silva, Soraia Santos, Augusto Amado, Beatriz Pires, Daniela Casimiro, David Silva Andrade, Diogo Cadete, Eduardo Molina, Fábio Anunciação, Fernando Couto, Filipa Nascimento , João Moreira, Lídia Alves, Maria Matos, Mariana Sá Marques, Marina Leonardo, Melanie Marques, Nuno Violante, Rafaella Theodoro, Raquel de Lima, Beatriz Garrucho, Sara Jardim, Teresa Roxo e Vera Lagoa
2 – 3 APR 2017
Jonk – ny internationell scenkonst för unga
Jönköping, Sweden
With: Ellen Tollin, Emelie Andersson, Felix Martinsson, Joseph Sbynati, Julia Karlsson, Linn Vannemyr, Maja Asp, Malin Maukonen, Patricia Arion Sörinder, Rania Essam Abdulkhiek, Sebastian Helm e Wilma Sandberg
19 MAY 2017
Antiga Serração de Monchique
Festival Lavrar o Mar
Monchique, Portugal
26 MAY 2017
Auditório EB 2, 3 de Aljezur
Festival Lavrar o Mar
Aljezur, Portugal
With: Alexandre Gonçalves, André Cabrita, Bárbara Madeira, Beatriz Silva, Daniela Filipa, Diogo Águas, Diogo Baptista, Enzo Magnoli, Miguel Simões, Samuel Nunes e Sofia Santos
9 JUN 2017
Cine-Teatro Curvo Semedo
PT 17 (Portuguese Platform for Performing Arts)
Montemor-o-Novo, Portugal
With: Adriana Paixão, Ana Rita Barreiros, Bruno David, Diana Linguiça, Helena Caldeira, Joana Leonardo, João Carvalho, Mariana Ballardin, Rúben Jaulino e Stella Horta
8 – 9 SEP 2017
Short Theatre 12
Rome, Italy
14 SEP 2017
Cine-Teatro São Pedro
Festival Materiais Diversos
Alcanena, Portugal
With: Adriana Ermano, Ana Sofia Cunha, António Liberato, Beatriz Pereira, Cássia Feliciano, Cláudia Mateus, Cláudia Tomás, Daniela Justino, Jania Pardal, Melissa Rodrigues e Rafael Casimiro
22 SEP 2017
Terni Festival Internazionale della Creazione contemporânea
Terni, Italy
With: Francesca Covicchio, Andrea Rochi, Arianna Argenti, Chiara Notari, Ester Ceccaroli, Francesco Nikitta Barbarossa, Lucky Yere, Ludovico Ielo, Martina Salvucci, Maya Caston, Paoplo Leonardi, Rouguiatou Kante
13 – 14 OCT 2017
Festival Actoral 17
Marseille, France
8 – 16 FEB 2018
Nouveau Theatre de Montreuil – CDN,
Montreuil, France
With: Axel Sauvage, Camille Lizop, Eleonore Barrault, Eva Oriou, Haiyou Wang, Jonas Thierry, Léa Francois, Lila Michel- Engelhorn, Loïc Pichardie, Loubna Raigneau, Louise Arcangioli, Maëlle Maginot-Hardy, Marc Le Nestour, May Ameur-Zaimeche, Nathan Herin, Oriane Massini, Pauline Couturon, Pierre Lubuma, Sara-Angeline Madiba e Simon Royer
15 – 16 MAR 2018
Teatro Eliseo Nuoro
Sardegna Teatro
Nuoro, Sardegna, Italy
25 – 26 MAR 2018
Teatro Massimo
Sardegna Teatro
Cagliari, Sardegna, Italy
With: Alessandro Congiu, Alessio Rundeddu, Amedeo Podda , Beatrice Marci, Chiara Fois, Elena Pavone, Elisa Garippa, Martina Deligia, Michael Pintore, Bob Prospero, Simone Pilia, Teresa Castello
15th April 2018
Vooruit
Ghent, Belgium
20 – 21 APR 2018
Beursschouwburg
Brussels, Belgium
With: Adnane Lamarti, Ahmed Er Retili, Btissame Bourric, Farah Maakel, Farbod, Fathinejad, Kheshia Boutera, Louay Dabous, Luna Deshayes, Mathilde Lâm, Nouha Mhamdi, Sihame Haddioui
6 – 7 JUN 2018
Festival Latitudes Contemporaines
Lille, França
With: Antonin Loisel, Mona Taibi, Maxime Bontè, Nazif Bassirou, Fatoumata Dialo, Toinon Cailleau, Laetitia Antoine, Louise Boulard, Benoit Margottin, Andrei Choquet, Antoine Dufresnes and Maximilien Banti
23 – 25 AUG 2018
Noorderzon Performing Arts Festival
Groningen, Netherlands
With: Susanne van den Hoff, Anna Bruijn, Jorinde Gjaltema, Alida van Hunnik, Yamen Erksousi, Bonny Pluim, Kay Brevoord , Kahly Roose, Ashton Leverock, Mohamad Alsalameh, Redmer Stamhuis and Fearle Bos
31 AUG and 1 SEP 2018
Mladi Levi Festival
Ljubljana, Slovenia
With: Domen Blatnik, Lea Klančič, Diana Kolenc, Lara Lovrič, Katarina Majcen, Tina Malenšek, Gašpar Marinič, Mila Peršin, Katja Štefanič, Manca Šuligoj, Kaja Brina Uršič, Tom Veber
5 – 7 OCT 2018
Mercat de les Flors
Barcelona, Spain
With: Aida Vàsquez, Berta Font, Hatim Azhri, Lía Acevedo Acetuno, Lucia Franco de Paz, Marçal Salvat, Meritxell Guitart, Nihad El Melloussi, Rita Camacho, Zino Benzerga
9 – 10 NOV 2018
Tanzquartier Wien – Centre for Contemporary Choreography and Performance
Vienna, Austria
With: Maximilian Blender, Esra Erdogan, Hannah Fras, Antonio Prokscha, Lena Hödl, Iliya Hosseini, Lisa Jakob, Nadine Millauer, Olivia Schabowski, Elias Scheibenpflug, Benjamin Stadler, Lia Wilfing
29 NOV 2018
CDN Orléans – Centre Val de Loire
Orléans, France
With: Agathe Baudin, Pierre-Alexandre Bontemps, Léa Chénot, François-Marie Gaspar, Juliette Deville, Mathilde Graslin, Esther Lefranc, Maria-Ne-Souza Mawila Milda, Jally Phejar, Quentin Weiling, Chadrack Ilanga and Camille Bureau
14 FEB 2019
Festival Escenas do Câmbio
Santiago de Compostela, Spain
With: Andrea Vásquez, Verónica Barreiro Calviño, Marcos Álverez Espiño, Alicia Muñoz, Inés Santos, Iago Maceira Cortegroso, Alixa Ladson Bugallo, David José Marrondo, Carmen Soto, Daniel Prieto and Carlota Feijoo
8 – 10 MAR 2019
Naves Matadero
Madrid, Spain
With: Iris García, Maryuri Balladares Ashqui, Lorena Sierra XV, Álvaro Gómez Wonka, Estíbaliz Racionero Balsera, Nerea Cortés, Alberto García Aznar, Clara Ochoa, Daniel López, Paul Fernández, Daniel Tacuri Rosas and Guille Sevillano
14 – 15 MAY 2019
Espace Malraux – Scène Nationale de Chambéry et de la Savoie
Chambéry, France
With: Charline Barbané, Perrine Berger, Marine Danowski, Sarah Guerin, Dorine Valleix, Emelie Moredo de Oliveira, Benjamin Daccoud, Laurane Vandenbrouc, Jessy Lormelet, Lucas Rouvre, Guillaume Berthelier, Mohamed Zourki
24 – 25 MAY 2019
Wildwuchs Festival
Basel, Switzerland
With: Madleina, Annouk, Melissa, Kaiia, Farah, Jennifer, Susan, Kiki, Michelle, Julia, Li Jeen and Anouchka
14 JUN 2019
Porto Cultura em Expansão
Porto, Portugal
With: Catarina Garcia, Fabrício Oliveira, Murilo Rocha, Rita Duque, André Coelho, Sandra Machado, Sílvia Oliveira, Francisca Ribeiro, Receca Caroline and Helena Santos
4 – 5 OCT 2019
Ciało / Umysł Festival
Warsaw, Poland
With: Agata Tragarz, Michał Szczypek, Monika Korneluk, Bartosz Rękawek, Anna Mishchenko, Julia Wejcman, Zuzanna Piwowar, Weronika Godlewska, Michał Niemyjski, Małgosia Kowalczyk, Jan Burbicki, Olga Rosińska
7 – 9 NOV 2019
Frascati Theatre
Amsterdam, Netherlands
With: Rubin Ajlouni, Yaqien Bouker, Nancy Boutros, Marly Brouwer, Charlotte Velsen, Alex Correia, Caesár van Daal, Azra Golbach, Alisa Lavrenchenko, Maaike van Maltha, Nzinga Nortan, Jesse Zijlstra
18 e 19 MAR 2020 – CANCELED
Teatro Calderón
Valladolid, Spain
03 MAY 2021
FITEI DIGITAL 2021
Livestreaming, available for 48h